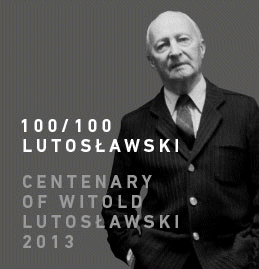 ORGANIZER:
WITH THE COOPERATION OF:



..
Financial support: Ministry of Culture and National Heritage programme "Lutoslawski 2013 Promesa" realised by The Institute of Music and Dance.

The Polish Institute of Arts and Sciences in Canada would like to express its gratitude to Mr. Grzegorz Michalski, the President of the Witold Lutoslawski Society, and Mr. Jerzy Milewski, the former President of the irreplaceable Polish Culture Foundation, for a number of invaluable remarks and suggestions during the preparation of the program of the celebrations for the Lutoslawski's Anniversary in Montreal.
---
For any enquiries, please contact us at office@polishinstitute.org

---

CENTENARY OF WITOLD LUTOSŁAWSKI
..

...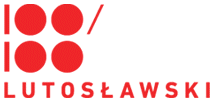 ROK WITOLDA LUTOSŁAWSKIEGO W MONTREALU.
ŻYCIE I DZIEŁO WIELKIEGO TWÓRCY.
..
PAST EVENTS
November 21st, 2013

Program:
W. Lutosławski - "Subito" na skrzypce i fortepian
K. Szymanowski - "Maski: Sheherazade" na fortepian solo
W. Lutosławski - "Bukoliki"
W.Lutosławski - "Recitativo e Arioso" na skrzypce i fortepian
K. Szymanowski - "Mity: ¬ródło Aretuzy" na skrzypce i fortepian
G. Bacewicz - "Kaprys Polski" na skrzypce solo
W. Lutosławski - Kołysanka dla Anne Sophie
K.Fraj - Duet na dwoje skrzypiec
G.Bacewicz - Duety na tematy ludowe
M. Moszkowski - "Suita na 2 skrzypiec i fortepian"

October 26th, 2013

| | | |
| --- | --- | --- |
| | .... | International Conference "Lutoslawski - Music and Legacy" |
| .. | | |
October 27th, 2013

Program:
Witold Lutosławski: Concerto pour Piano
Witold Lutosławski: Partita pour violon et orchestre
Norbert Palej: Symphony (world premiere)
André Prévost: Écanescence
Aleksander Głazunow: Chopiniana
Justyna Gabzdyl - piano, Ewa Sas - violin

June 3rd, 2013

February 27th, 2013
Piano recital by Katarzyna Musial "DANSES ET PRÉLUDES", Works by Lutoslawski and others, Société historique et littéraire polonaise, Paris